The 66th annual Sapporo snow festival is in full swing at the moment in Japan, and the Japanese military has been participating in the Sapporo Snow Festival since 1955. They consider the process of building sculptures up to 15 meters tall a training exercise. This year they spent their time building a n homage to Star Wars with a huge snow sculpture depicting famous Starwars characters including stormtroopers, Darth Vader and a glimpse of the Death Star.
Below is a set of images from SBS depicting the process taken to build such a gigantic ice sculpture.
This slideshow requires JavaScript.
It looks fantastic at night
Sapporo Snow Festival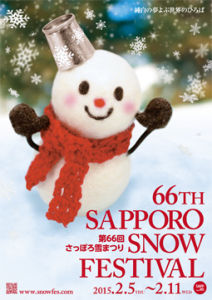 The Sapporo Snow Festival, as one of Japan's largest winter events, attracts a huge number of visitors from Japan and abroad every year. Every winter, about two million people visit the northern city of Sapporo to see a large number of splendid snow and ice sculptures. For seven days in February, Sapporo is turned into a winter dreamland of crystal-like ice and white snow.
Sapporo is the fourth-largest city in Japan by population, and the largest city on the northern Japanese island of Hokkaido. It is the capital of Hokkaido Prefecture.
Sapporo is known outside Japan for having hosted the 1972 Winter Olympics, the first ever held in Asia, and for the city's annual Yuki Matsuri, or the 'Sapporo Snow Festival'. The city is also home to Sapporo Brewery and the famous white chocolate biscuits called shiroi koibito "white sweetheart".